Dark side of democracy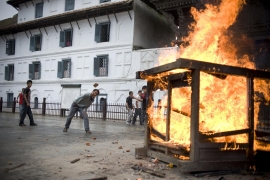 (Edwin Koo/Global Post)
Published October 20, 2009
Chaos and anarchy set loose in post-conflict Nepal
KATHMANDU, Nepal — Dr. Roshan Raut had a life to save and little time to waste as he raced on his motorcycle toward the hospital.
But between him and the hospital, young men wielding clubs and knives attacked any motorist or cyclist trying to run their blockades. Called a bandh, this one in June was another in many violent protests that shut down entire swaths of the country on a whim. This time, Maoists protested the alleged murder of a member of their youth militia: It was later revealed he had committed suicide.
Unspoken rules that previously governed the conduct of bandh — safe passage for journalists, U.N. vehicles and doctors — have been discarded, as Raut learned when he was pulled from his motorcycle and beaten. Near the holy Boudhanath Stupa, the most revered Buddhist temple in Nepal, his motorcycle was set aflame.
Read more here: http://www.globalpost.com/dispatch/study-abroad/091019/dark-side-democracy