Justice, one tap at a time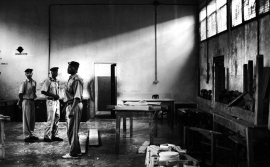 (Ian Maclellan/GlobalPost)
Published September 29, 2009
KISUMU, Kenya — The men in this classroom are friendly. They laugh and joke as they weave new ways to write appeals, rattling off quotes from the Kenya Law Report that they painstakingly copy down by hand.
The two advocates from Christian Legal Education Aid and Research (CLEAR), who lead this class of aspiring paralegals, stop and think if anyone has ever used this defense in an appeal before. These students are sharp, every one a prisoner here in Kisumu.
One man is particularly inspired in his battle to win an appeal against his charge of robbery with violence, a capitol offense in Kenya. He devours every newspaper or case file he can, searching for everything that could help him or his fellow prisoners get free. He meets weekly, sometimes even daily, with other prisoners interested in legal debate and discussion, in addition to the biweekly class with CLEAR.
Read more here: http://www.globalpost.com/dispatch/study-abroad/090929/justice-one-tap-at-time